Design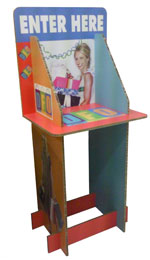 As the name suggests, at the heart of Carton Concepts is our packaging design service. With over 20 years in the packaging industry, we know what works and what doesn't – not just in CAD design, but also in production.
A great design is one thing, but it also needs to be able to be produced easily and economically. Having worked on the machines, we have had our fair share of finding solutions and work-arounds for common design issues that were not picked up during the design stage resulting in production grinding to a halt - usually on urgent jobs. This is where the experience of having run die-cutters, laminators, flexographic printers, folder-gluers and a variety of other machines comes into play. We can usually look at a job and foresee any issues before giving the approval to proceed with tooling.
We are the Australian and New Zealand agents for the Packaging CAD software that we use. As a result, we are always up-to-date and have the very latest releases with the benefit of any features offered in the software. This enables us to output an electronic 3D mock-up of the design, including artwork, that can be used for concept approval or an electronic prototype before moving onto a physical sample.
Protypes can be made in-house on our Aristo cutter that has a working size of 1200 x 900mm and able to cut folding carton and corrugated materials. Larger designs can be scaled-down sampling purposes, or we have machines available through our Aristo customers that we can use and still maintain confidentiality.
Our CAD software includes a full array of designs for folding cartons, corrugated box and Point Of Sale Displays that we can use, or we can perform a custom design from the ground up. As we are the distributors, we always use the very latest versions. We are also experienced in structural boards such as Xanita or Aluminium Composite.
We can work from our modern premises in Derrimut (in Melbourne's west) or on-site at your premises. If you are after a complete design service to take you from concept to final production, or even if you have your own design department and just require additional assistance on a project, we can help.